Diese Veranstaltung hat bereits stattgefunden.
Exhibition: Boulevard of Woken Dreams
November 5, 2022 @ 1:00 pm

-

November 6, 2022 @ 6:00 pm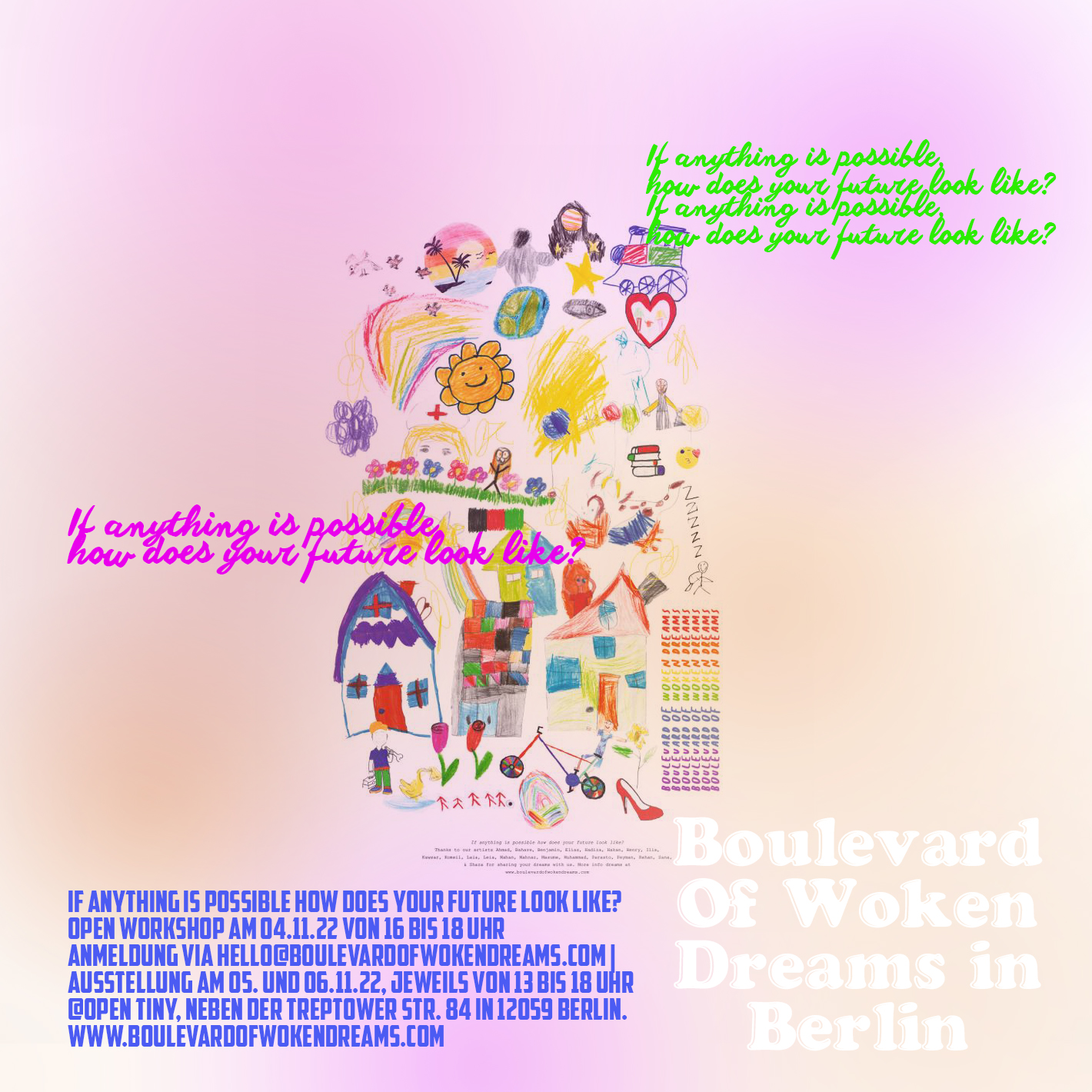 DRAW YOUR DREAM FUTURE AND SEND US A PHOTO OF IT
MALE DEINE TRAUMZUKUNFT UND SCHICKE UNS EIN BILD DAVON
BOULEVARD OF WOKEN DREAMS MÖCHTE DIE ZUKUNFTSTRÄUME GEFLÜCHTETER KINDER SICHTBARER MACHEN. AUS GEMALTEN BILDERN DER KINDER WURDE EINE BEGEHBARE INSTALLATION, DIE ZU EINEM ORT DES AUSTAUSCHES, DER BEGEGNUNG UND DES WILLKOMMENS WIRD UND DIE JUNGEN KÜNSTLER*INNEN IN ALL IHRER VIELSEITIGKEIT ZELEBRIERT.
BOULEVARD OF WOKEN DREAMS WANTS TO SHOWCASE THE DREAMS DIFFERENT REFUGEE CHILDREN'S HAVE FOR THEIR FUTURE. DRAWINGS MADE BY THE CHILDREN HAVE BEEN TURNED INTO A WALK-IN INSTALLATION TO FOSTER AN EXCHANGE, AWARENESS AND CELEBRATE THE YOUNG ARTISTS IN ALL THEIR DIVERSITY.
www.boulevardofwokendreams.com / https://www.instagram.com/boulevardofwokendreams/ https://www.boulevardofwokendreams.com/mitmachen