Diese Veranstaltung hat bereits stattgefunden.
Cinephile Federballpiraten
Dezember 15, 2022 @ 7:30 pm

-

9:00 pm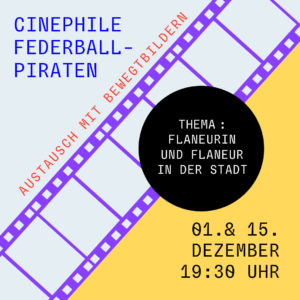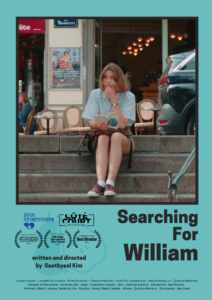 Austausch mit Bewegtbildern jeden zweiten Donnerstagabend.
Thema im Dezember: Flaneurin und Flaneur in der Stadt

Im Dezember wird der Film À la Recherche de William (2021, R. Saetbyeol Kim, OmEU) unter dem monatlichen Thema Flaneurin und Flaneur in der Stadt gezeigt. Unter anderem feiert dieser Film seine Deutschland-Premiere! À la Recherche de William kann man für die beiden Termine gucken, noch dazu werden jeweils unterschiedliche Kurzfilme im Vorspann gezeigt. Seid gerne bei Film und Diskussion im Kiez Kiosk!
À la Recherche de William Searching For William  (2021):
directed by Saetbyeol Kim, France & South Korea, 38′ 57, Comedy & Drama. With Uliana Leonova, Leonard Ballesteros, Elena Blokhina, Radoslav Majerik, Hayk paul Hambartsum, Anouar Kardellas and Quentin Branchet.
Synopsis
A young Russian screenwriter, Uliana is writing a script about being madly in love with William. But the love is not reciprocal. One night, under the influence of alcohol, she sets out on a quest to find another William to replace him. Searching For William is a comedy-drama reflecting the theme on one-sided love, life as an expatriate, as well as the confusion between reality and fiction.
Alle sind Willkommen, eintrittsfrei.
Bei Interesse und Fragen: lprimadr@gmail.com